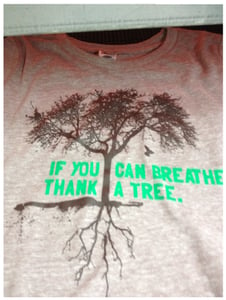 $

9.99 - On Sale
The Cirrus "Thank a Tree" shirt says it all - the next time you take a big deep breath before venturing out for the day, take pause and thank a tree. (Or just wear this shirt) If you listen closely, you may just hear a simple You're welcome from your arbor neighbors. This earth friendly tee is 100% cotton, a product of America, and hand-printed locally by Cirrus.
This shirt is the brain-child of Tyce Jones
At least 10% of profits from this shirt will go towards supporting agriculture focused micro-loans through Kiva.org.